Hunting i know is coming, i'd like to suggest some specifics concerning that before putting together a list of recipe ideas and how to translate that into gameplay.
Boars
According to the wiki page
https://en.wikipedia.org/wiki/Wild_boar
they do appear to exist in Canada. Not sure if wild boars would fit the geographic enviroment of the island or its history. Its unlikely they'd be a native species having to of been transported from mainland Canada or introduced by sailing boats 100's of years before hand. Im no zoologist.
Once capturing and killing the boar a hunting or skinning knife would be ideal to remove the boars skin. Animations would be nice apart from the higher work load. Boars also appear to need shaving. That's two resources, boar skin to make leather from tanning and boar hair which just so happens to be excellent for making brushes
https://www.wild-good.com/blogs/blog/boar-bristle-brush-benefits
The tanning process is much more complicated
https://www.wikihow.com/Make-Leather-Naturally
There are probably modern methods to speed up the process, 9 months is a long wait for a pair of leather boots!
The cutting of meat, there's a number of ways this could be gone about. Like if you want to consult a butchers chat
Ofc there's the valuable lard to be gained from the boar along with a few other byproducts like bones that can be used to craft primitive tools weapons and sinew for the creation of bows although what ive read deers are much better for sinew. Lastly a mounted trophy which could give groups in a fortified building a moral boost, that's taxidermy which would be an interesting addition to the game.
Deer
There are a number of deer species in Canada
https://www.thecanadianencyclopedia.ca/en/article/deer
So its plausible they could of reached the island being transported by boat or a long time ago walked over some ancient land bridge.
Here's a break down on the prime cuts of deer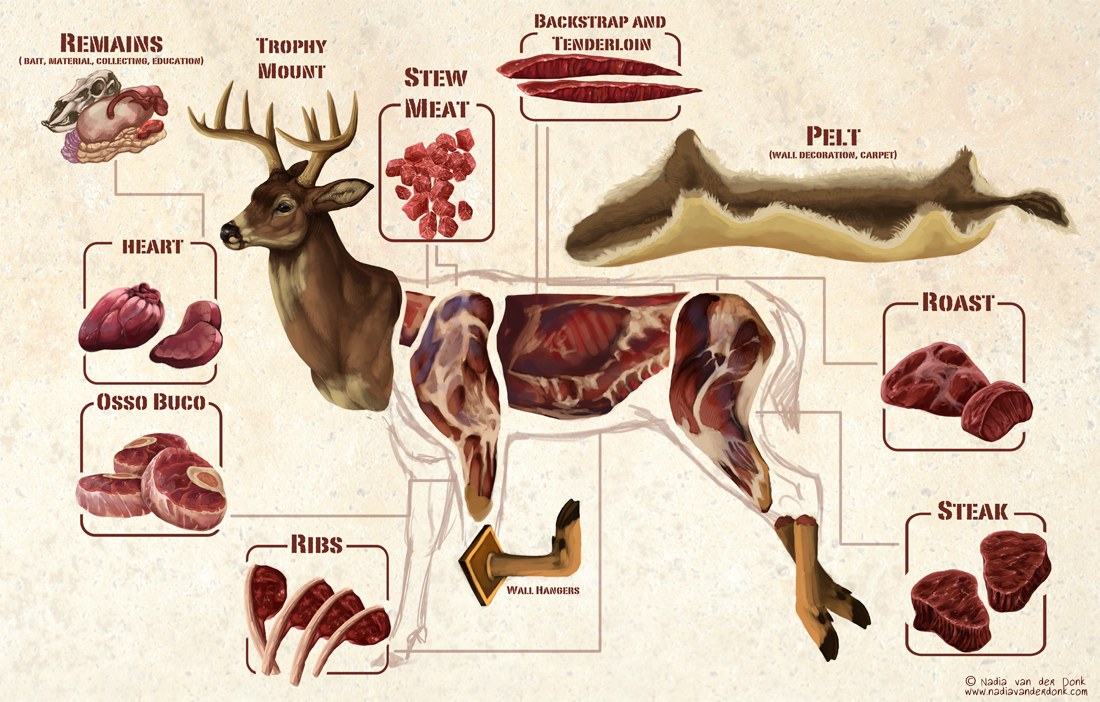 Seems there's already a few ideas on that chart for other crafting avenues
Deer skin would make excellent coats, if combined with pig leather would create insulated armour that could additionally be camouflaged for the snipers out there haha.
Elk
Another deer like animal which exists on mainland Canada. Here's a good breakdown of the different cuts of meat
The antlers are worth a mention, pretty much anything pointy could be made from them. Seems they make great knife handles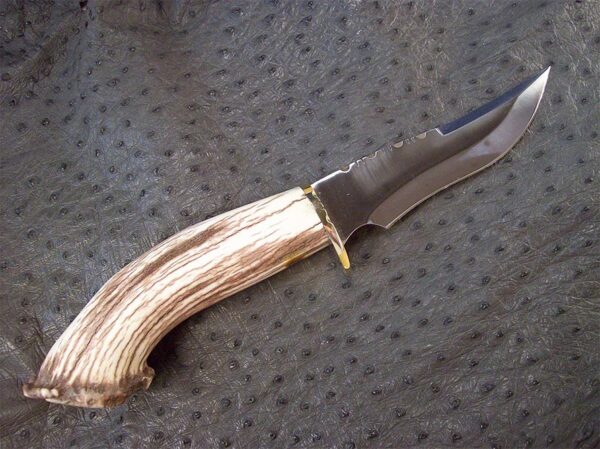 In addition an Elk trophy would be a mighty moral boost.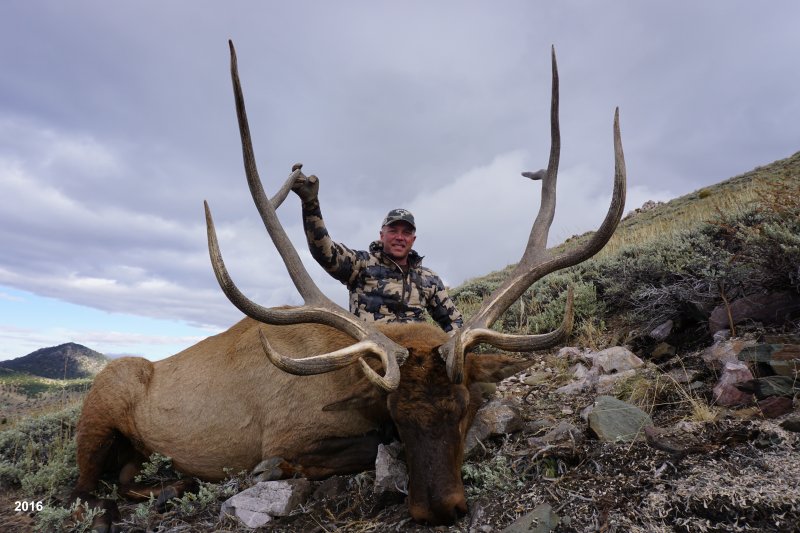 lol not small critters.
Canadian Mountain Goat
http://www.mtgoats.ca/
A species of wild goat exists in Canada. Im thinking the hilly areas of the island would be ideal for mountain goats.
Look at that awesome fur coat
Found a great butchers chart for goat
http://virtualweberbullet.com/meatcharts_photos/goat.pdf
I'll leave it there for suggestions of game. A plethora of meat cut charts can be located here
http://virtualweberbullet.com/meatcharts.html
If anyone would like to contribute to this thread by all means post.
Right down to business.
All meal recipes other than meat require basic constitutes.
Safe cooking baking water
Heat
Herbs
Spices
Wheat
Salt
Vegetables
Cooking baking vessels and utensils
Yeast
Sugar
I'll begin with the production of flour
Without really knowing the climate of the island if that's even been covered Canada appears to have a huge trade in wheat.
https://www.thecanadianencyclopedia.ca/en/article/wheat
Its plausible that some wheat seeds were transported to the island by birds possibly larger sea birds? Not something i know alot about but that's how i'd imagine they'd get there, could do on wind currents it seems less likely.
Once some wheat seeds were aquired the production of wheat could take place.
https://www.wikihow.com/Plant-Wheat
Its not a terribly hard crop to grow ive even explored this possibility irl due to wanting unbleached flour. Wheat can be grown in a small backyard yielding enough for many loafs of bread. On that note, it brings to mind garden pests and smaller animals could be an interesting gameplay feature needing players to learn and craft natural pest control methods. The grinding of wheat to flour isn't a difficult thing espec with power isn't there already a food processor in game?
Salt
This could be a bit more tricky. Seawater should be able to produce salt if its evaporated down.
https://www.instructables.com/id/How-to-Make-Sea-Salt/
Certainly more involved than would appear.
The planting and growing of herbs is relatively easy as a bonus many common pests don't like herbs so management of them wouldn't be required other than watering.
Spices is a bit more tricky, some likely wouldn't be possible to grow on the island due to its guessing cooler climate. Most spices would have to be hit n miss found in loot. A few like ginger should be growable. As a bonus herbal medicine could be crafted from a number of spices.
Vegetables, pretty standard for growing although wild vegetables would be interesting. That's foraging. Certainly does appear Canada has some wild vegetables
https://www.outdoorcanada.ca/15-wild-plants-you-can-eat/
Waters already covered and mostly done in game. Cooking baking utensils are mostly done too, perhaps a few more wouldn't hurt depending on their uses. Like different shaped tins for baking cakes, bread loafs etc. Or BBQ tongs simple stuff like that which translates to the player not risking a burnt hand haha.
Yeast
Believe it or not yeast can be caught and cultivated.
https://science.howstuffworks.com/innovation/edible-innovations/sourdough2.htm
I recall seeing a youtube video where a woman was using a sourdough yeast culture of many years in age, it requires refrigeration. It can be keeped alive indefinitely with new generations of the yeast bugs being produced. Otherwise im sure baking soda could be something addable as loot considering its other uses. Then only a form of acid needs to be used. Like vinegar. Which can also create batteries.
Sugar
This is an easy one, Canadian Maple trees. The tapping of does require a tool. The wood its self has a number of uses including musical instruments!
http://www.wooddomain.com/trees/sugar-maple-tree
A few basic recipe ideas
Bread
2 units purified water
6 units ground wheat flour
1/2 unit of salt
1/2 unit yeast or baking soda mix
1 unit of sugar
A working oven or fire
Bread loaf tin
I think the best way to go about it would be combining a number of ingredients to produce intermediate combinations which when combined with a heat source produce a loaf of bread relative to game time. So it might take 2 minutes to produce a single loaf? An improved bread recipe could be possible allowing greater nutrition and longer lasting spoilage time by adding herbs and spices.
Wheat cake
1 unit purified water
4 units ground wheat flour
1/2 unit of salt
1/2 unit of yeast or baking soda mix
3 units of sugar
3 eggs
1/2 unit of ground ginger or similar
A working oven or fire
Round cake tin
Suggestion 1 minute 30 seconds bake time.
Wild boar stew
5 units purified water
2 units wild boar meat
1 unit of salt
2 potatoes or similar vegetables
A working oven or fire
Large soup pot
Suggestion 3 minutes cook time
An improved version could include herbs and spices for enhanced player health and longer spoilage time.
Last edited: