Joined

Aug 14, 2014
Messages

68
Likes

21
Points

18
Location
STEAM TRAP
Use buckets of water/or liquid sources mixed with heating elements to raise steam to help hinder vision or and area/or person.
Crafting?
Vents
Air/Fan
Buckets Of Water
Buckets of Sticks
Lighter
BARBED WIRE
I know there are Barbed wire barricades but should be a trap or way to take the wood planks off fences that you can use to board the windows with and replace it with Barbed Wire all the way around the house, this could also but used to help infustruct the "Electric Fencing" Trap/thread @@MrMoose was talking about! Kinda make it a double threat.
ARROW TRAP
A trap that projectiles arrows from a wall/crossbow(like the shotgun trap but with a different variation) to a window/door or from a platform you build or place that it can be built on?(it can pin enemies down to a surface when hit by it?) that can be reloaded with arrows? May need ideas on how to craft this item.
SPRING TRAP
Does what it says when tripped or triggered, it springs up and pushes or launches enemies away?
Crafting?
Metal Sheeting
Springs
Wood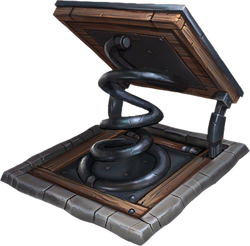 GRINDER TRAP
Use a spiraling form of a rotation piece with spikes(that are tack welied) that is powered that can be used to grind up the zeds/person and it could be attached to windows or used on the floor
Metal drum/casing
metal sheeting
String
Metal Tips
Weilder(if this is implimented)
MUD TRAP
Pretty self-explained, use the enviroment to make your house a slip hazard/ the outside grounds to hinder people/Zed movement allow you to get the advantage or edge on an escape.
Crafting?
Buckets(for mud and water)
Boards(May for the use of keeping it containted in an area.
SAW TRAP
A Device used that shoots rip/jigsaw blades toward the enemy kinda like the shotgun trap, it would be place-able, and tripwired based. Rapid Firing of multiple saws could be a viable varation to this trap.
Crafting?
Saw Blades
Sticks/Metal Rods
?????
?????
DECOY
The ability to make a human or figure and cover it in blood/smell that would allow to attract enemies.
*ablilty to tamper with the decoy making it smell, or look like that of human features from the distant (aka scarecrow?)*
Crafting?
Straw
Sticks
Variety Of Fruits/Veggies
(zombie blood to tamper the smell/flesh)
Or maybe even just be able to have animal Decoy's that like turkey and deer Decoys to help increase and ease of hunting?
TRIPPING TRAP
the use of string/boards/tape that could be used on windows/doors that could be placed low that would allow the hinder of movement and possibly trip the enemies. (maybe even place high but then it wouldnt be a tripping trap)
Maybe even use shrink wrap that could kinda be hard to see that people would run into xD
Crafting?
String
Boards
Metal Rods
Tape
Shrink Wrap
Wire
BOULDER CHUTE
A ceiling/roof trap that's held by a diagonal net or ceiling net holds boulders and when triggered it drops the rocks on the enemies?
Crafting?
Boulders/rocks
metal sheeting
net
String/Wire
Last edited by a moderator: